IT'S NOT JUST FOOD,
IT'S HERITAGE
Discover the flavors of India in our menu! Indulge in an exquisite culinary journey as you explore a wide selection of authentic and flavorful dishes that showcase the rich traditions of Indian cuisine. From aromatic spices to delightful combinations, our expert chefs have crafted each dish to perfection, ensuring a truly unforgettable dining experience. Immerse yourself in the vibrant flavors of India with us today!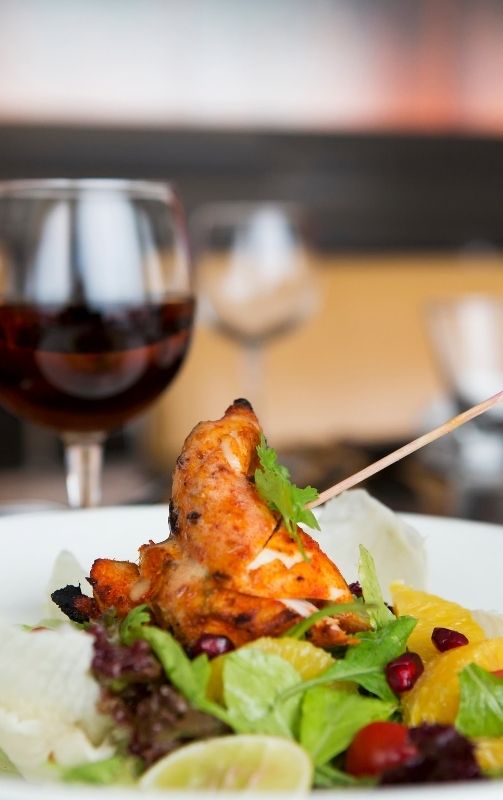 INDIAN SUMMER SALAD
Freshly chopped cucumber, tomatoes, onion, peppers, carrots topped with mango chutney
CHICKEN TIKKA SALAD
Marinated breast of chicken tossed with fresh lettuce, chickpeas, cucumber and tomatoes
ALOO TIKKI
A favorite dish from the city of Patiala in northwestern Punjab; pan fried potato cakes accompanied by a tamarind-date sauce, mint and green apple chutney
ONION AND POTATO FRITTERS
Flavoured with mild spices served with mint sauce and mango chutney
AVOCADO SEV PURI
The street food highlight from Delhi! Vegan, healthy and delicious!
PALAK KA PHOOL
Crispy fried pastry parcels filled with feta cheese,baby spinach, served with pear and tamarind chutney
SAMOSA (VEG OR CHICKEN)
Crispy fried pastry parcels stuffed with potato and peas or with minced chicken with hand pounded spices
LASUNI MUSHROOMS
Battered mushrooms served with homemade garlic sauce
LAMB SEEKH KEBAB
Hand pounded lamb mixed with spices cooked on skewers in tandoor served with mint sauce
KEEMA NAAN
Fresh naan, topped with minced lamb, cooked with ginger, garlic and garam masala
TAMARIND LAMB FRY
Batter fried strips of lamb fillets tossed with sweet chilli and smoked coriander sauce
AMRITSARI MACHI
Batter fried fish topped with pickled red onions, served with mint sauce
BHUTANI PRAWNS
Pan fried king prawns with garlic, butter, mustard seeds and curry leaves
HYDERABADI TIKKA
In Joghurt, frischer Minze und Chili marinierte Pouletbrust, serviert mit Randen und Mango-Chutney Breast of chicken marinated with yoghurt, fresh mint and chilli served with beetroot and mango-chutney
TAMARIND HILL MIX PLATTER (FOR 2 PERSONS)
Samosa (veggie & chicken), Palak Ka Pool, Aloo Tikki, Lamb Seekh Kebab, Chicken Tikka, Soya Chops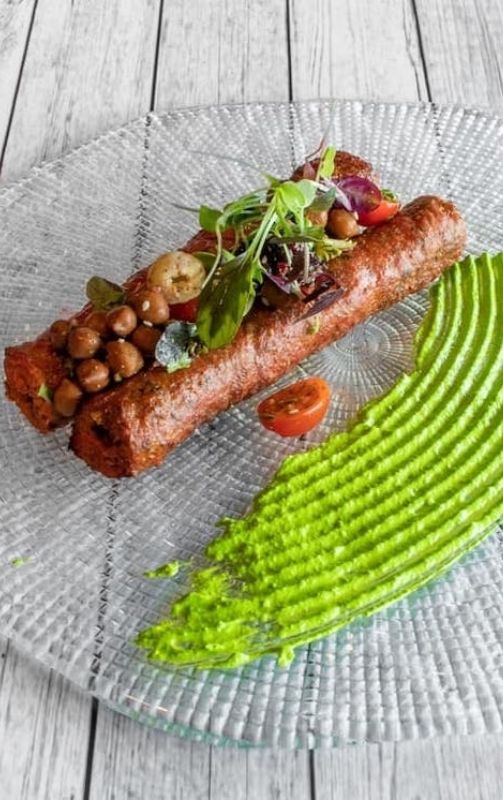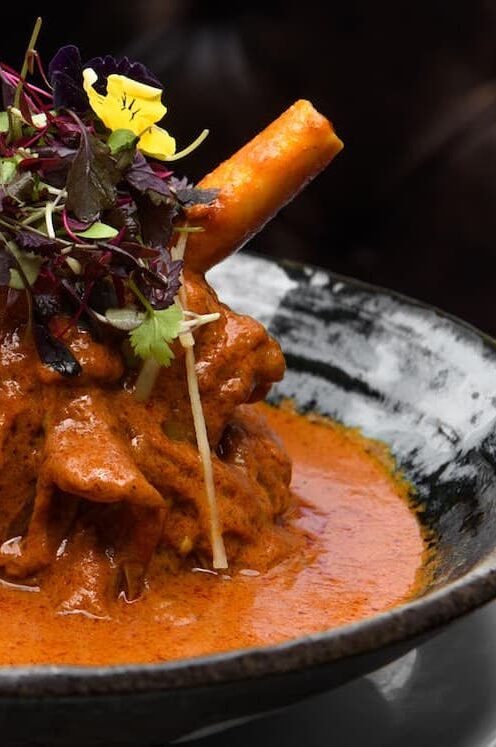 CHICKEN KORMA
Creamy cashew nut and almond sauce with saffron and very mild spices
CHICKEN TIKKA MASALA
Creamy cashew nut and almond sauce with saffron and very mild spices
CHICKEN CHETTINAD
A popular dish from the southern coast of India. Chicken cooked with black pepper, cinnamon with curry leaf and coconut
CHICKEN KASHMIRI
Marinated chicken breast cooked in a spicy rich cashew nut sauce tempered with dried fenugreek leaves
CHICKEN KADAI
Marinated chicken breast cooked with onion and peppers in a special Indian wok, with lots of ginger and garlic
BUTTER CHICKEN
Shredded tandoori chicken cooked in a creamy tomato gravy finished with cream, butter, topped with green chili and coriander
TRADITIONAL CHICKEN CURRY
Chicken cooked in a traditional onion sauce with lots of ginger and garam masala
DUCK MADRAS
Marinated duck cooked in a spicy madras curry
LAMB VINDALOO
A very spicy curry sauce with vindaloo masala, potatoes and onion marmalade
LAMB PASANDA
Creamy coconutty tomato based curry cooked with Lamb
KEEMA MATAR
Minced lamb, cooked with green peas, ginger, garlic, onions and tomatoes
LAMB ROGAN JOSH
A Kashmiri delicacy of lamb cooked on the bone with spices,served boneless
LAMB SAAG
Lamb cooked with spinach, ginger, garlic and ground homemade spices
RAJASTHANI RAGDA MEAT
From the pink city, this special dish prepared with minced and diced lamb meat and cooked with onion, ginger and garlic in a special clay pot
PRAWN TAK A TAK
Very spicy thick sauce cooked with red onions, tomatoes, garlic and ginger
MALABARI FISH AND PRAWN CURRY
A South Indian specialty with coconut milk and mustard seeds
GOA FISH CURRY
Fish cooked in a creamy coconut sauce with mustard seeds and and bay leaf
PRAWN JALFREZI
Tiger prawns cooked with onions, peppers and tomatoes flavoured with carom seeds
PRAWN DOPIAZA
Prawns cooked with onions, tomatoes, ginger, garlic, cumin and Garam Masala
PALAK PANEER
Cottage cheese cooked with spinach and spices with a touch of cream
ALOO GOBHI
Cauliflower and potato stir fried with garlic and turmeric
ALOO BAINGAN
Eggplant and potato stir fried with garlic and turmeric
DAL TADKA
Yellow lentils cooked with cumin and smoked chilli
DAL MAKHANI
Lentils cooked with tomato marmalade ,butter, cream and spices
JEERA ALOO
Potatoes tempered with cumin, coriander and lime drizzling
BHINDI MASALA
Stir fried okra cooked with onion, tomatoes, ginger and garlic
CHANA MASALA
Chickpeas cooked in a traditional onion garlic and ginger curry
ALOO MATAR
Potatoes and green peas cooked with garlic and ginger in a traditional curry sauce
MATAR PANEER
Cottage cheese and green peas cooked with garlic and ginger in a traditional curry sauce
VEGETARIAN ALMOND AND COCONUT SAUCE
Vegetables in a very rich creamy almond and coconut sauce garnished with dried rose petals
SHAHI MIX VEG
Mix Vegetables cooked in rich onion and cashew nut sauce
PANEER KADAI
Marinated Indian Cheese cooked with onion and peppers in a special Indian wok, with lots of ginger and garlic
PANEER BUTTER MASALA
Cottage cheese cooked in a creamy tomato gravy finished with cream, butter, topped with green chilli and coriander
METHI MATTER MALAI
Green peas cooked with fenugreek and Kashmiri chillies in a creamy cashew nut sauce
MALAI KOFTA
A north Indian Mughlai dish. Creamy Cashew nut sauce cooked with cheese and vegetarian dumplings
RAJMA
Red kidney beans cooked in a spicy traditional curry with onions, garlic, ginger and tomatoes
PLANTED BUTTER CHICKEN
Planted chicken in a creamy tomato sauce with coconut cream
PLANTED CHICKEN MADRAS
Marinated Planted Chicken in a Spicy Madras Curry Sauce
PALAK PLANTED CHICKEN
Planted Chicken cooked with spinach and spices
Selection of chicken, lamb, fish,prawns or cottage cheese marinated with yoghurt and indian spices cooked in the traditional clay oven
MIXED ( DUCK, CHICKEN, PRAWNS)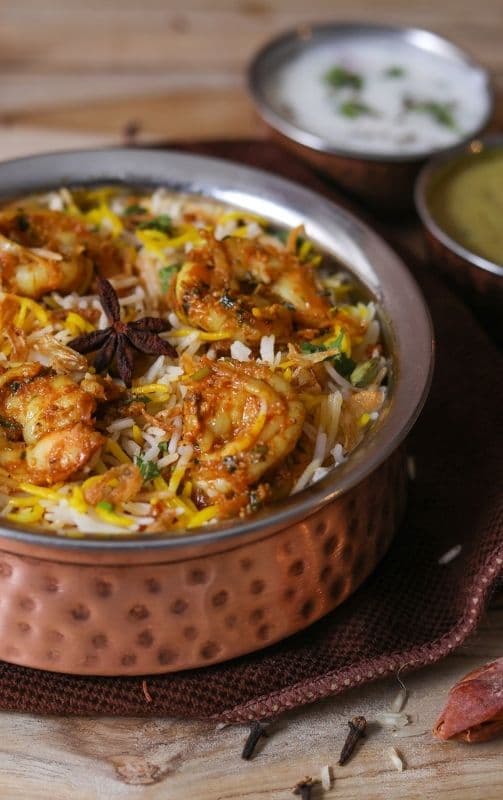 The Vegetables or meat are marinated and cooked along with the rice. It is left on slow fire for a fragrant and aromatic flavour
TAMARIND HILL MIX
(VEG, CHICKEN, LAMB & PRAWNS)
A Thali contains a selection of vegetarian dishes served in small bowls, which can be accompanied by a choice of fish or meat. It is served with rice, Dal, Roti, Naan, Raita (yoghurt) and a small dessert. Pickles or chutney are also served on request
VEGETARISCHES THALI (VEGANE VERSION VERFÜGBAR)
Three vegetable dishes with dal, served with raita, papad, basmati rice and Naan
CHICKEN THALI
Chicken curry with two vegetable dishes, dal, raita, papad, basmati rice and Naan
LAMB THALI
Lamb curry with two vegetable dishes, dal, raita, papad, basmati rice and Naan
FISH THALI
Fish curry with two vegetable dishes, dal, raita, papad, basmati rice and Naan
SPICY SHRIMP THALI
Shrimp curry with two vegetable dishes, dal, papad, raita, basmati rice and Naan
MILLI JULI (THALI FOR 2)
Chicken, lamb, fish, two different vegetables, dal, raita, rice , naan and dessert
BUTTER NAAN
Naan mit Butter
GARLIC NAAN
Naan mit Knoblauch und Butter
GARLIC ONION CORIANDER NAAN
PESHAWARI NAAN
Naan with grated coconut, raisins, almonds and canned sugar
MASALA NAAN
Naan with chilli and onions
PARATHA
Wholemeal bread cooked on a pan with butter
MISSI ROTI
Wholemeal bread stuffed with cumin, fennel and various spices
PUDINA PARATHA
Wholemeal bread cooked with fresh mint and butter
TANDOORI ROTI
Whole grain bread